Middle School 6th - 8th Grades
Middle School Program 6th-8th grades
Royal Palm Charter School was created to challenge and meet the individual needs of every student in our community. We strive to develop creative thinking and problem solving skills that serve as the foundation for a child's academic career.
The Middle School Program builds upon the foundation developed in the Elementary Program. Students are enrolled in all advanced core courses; including Language Arts, Social Studies, Science, and Math. The Language Arts curriculum meets the standards through novel based learning in order to provide a rich and engaging experience for students. Science and Math are integrated focusing on STEM (Science Technology Engineering and Math) strategies. Subject areas incorporate topics from the Core Knowledge curriculum to enrich the overall education.
Students have the opportunity to earn High School credits for Algebra, Geometry, Spanish 1 and Spanish 2.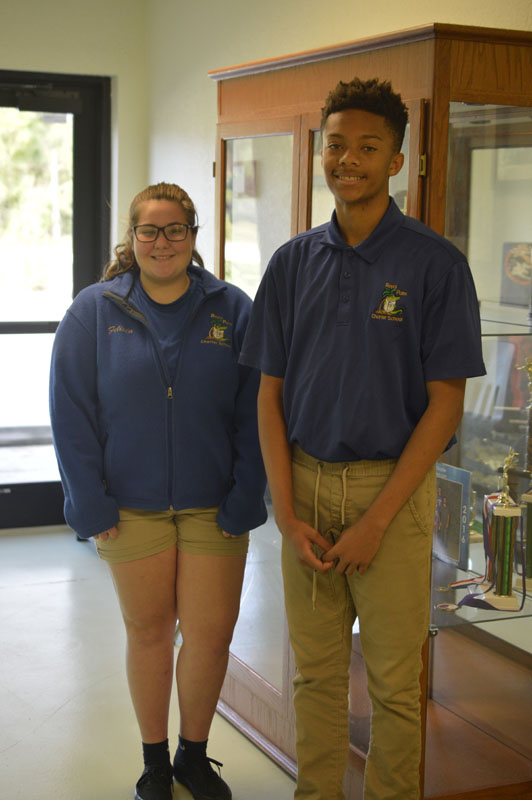 Technology is integrated into each subject area. As part of the program, each child will have a personal E-reader to complete reading and research assignments. Laptops are in each core subject classrooms. Students will need access to a home computer and network capabilities to complete assignments. If a home computer is not available, students may sign out a laptop to use. Students will be instructed on how to use technology programs, software and other resources to foster high school readiness. In some cases students may be required to watch instruction, submit assignments electronically and take part in discussion boards.
At this time, all Middle School students take PE and Spanish as electives. Spanish was selected in order to give students the opportunity to complete the language requirement now which will allow them more choices of electives that fit their interests in high school. Students will have the opportunity to choose an additional elective course in Band, Art, Avid, Environmental Studies, or Speech/Debate.
Additional activities include National Junior Honor Society, Peer Mentoring, and Student Council. We offer Study Hall 3 days per week as well as other clubs and intramural sport activities.
It is important that students are given every opportunity to learn and succeed. Royal Palm Charter School is taking an active approach to provide an engaging academic program to prepare students for the next level!